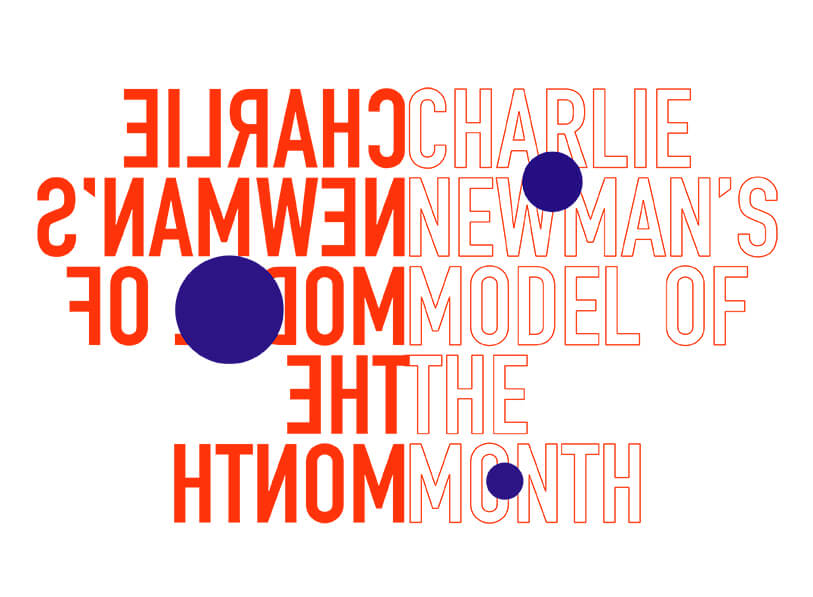 LUX contributing editor and model at Models 1, Charlie Newman continues her online exclusive series, interviewing her peers about their creative pursuits, passions and politics
THIS MONTH: Swedish model Nathalie Schyllert has been modelling for twenty years. She joined international wellness brand Bodyism over a decade ago and is now the brand's CEO. Here she talks to Charlie about training to be a ballerina, myths of the wellness industry and being a successful woman in business.
Charlie Newman: You've established yourself successfully within both the fashion and wellness industries. Were you passionate about clothes and food growing up?
Nathalie Schyllert: I grew up in Sweden as an only child with a single mum. Even if we didn't have a lot of money the most important thing for my mum was to provide us with really good, healthy food. I think in Sweden it's very easy to have a healthy diet as our traditional dishes always have fish and vegetables in them. I did a lot of exercise from a young age as I was a ballerina in the Swedish Royal Ballet, so it was very important for me to have balanced meals else I would have really physically struggled, especially when you are growing. To do 4 hours of punishing rehearsals a day as well as school you really need nutritious food to sustain you. I was very fortunate to be practising ballet in Sweden because compared to other traditional ballet schools across the world, Swedish schools have a much more positive approach to food, encouraging us to eat fat in our diets. It was a very good life lesson to be instilled in me from such a young age. My mum always wanted the best for me so we moved around so I could go to a better school, a much easier task in Sweden than here in London! Private schools in Sweden are extremely rare, so as long as you live in a good area you are guaranteed a good school too.
Follow LUX in Instagram: the.official.lux.magazine
Fashion only really came into my life when I was 15. In the summer holidays I went to either London or Milan for a month or two. At the beginning my mother would come with me or my Swedish booker to help me get settled. I've been with Models 1 in London since I was 17, so it's 20 years now that I've been with the same agency! Modelling was such a good opportunity and career path obviously because I started travelling more. I think my discipline from ballet taught me to see modelling as a career, not just as a good time which so many girls fall into the trap of doing. From the start I tried to be very professional.
At around 15 I had an injury in my foot which I could have probably got surgery on but I think at
that age I'd sort of had enough. To be a prima ballerina and really go for it, you have to have the
exact body and I didn't have the right arch. I realised that I wasn't made for it. Looking back now, I can see it was the perfect timing because at that age if I continued with the dancing I wouldn't have had as much time to study. So instead at 15 I focused more on studying science and maths and got a really good education from it which I still appreciate and utilise to this day. It was meant to be.
Charlie Newman: When were you first scouted?
Nathalie Schyllert: I was first scouted in Gothenburg when I was 14. My mum was very strict at the beginning with my agency, making sure they never said anything about body image. If you go with a really good agency they will look after you and guide you to have a healthy, balanced body – a good agency would never tell you to crash diet. When I was a child I didn't think of modelling at all, but even as a child I always loved performing so modelling didn't feel too out of my comfort zone when I got round to actually doing it.
Charlie Newman: What's been a career highlight for you so far?
Nathalie Schyllert: I did the first Stella McCartney Adidas campaign which was a really big deal at the time because no other designers had collaborated with sports designers like that. It felt so special because Stella was there and her sister Mary shot it. From that job I got so many more activewear jobs and it opened the industry's eyes to see that you can do really cool campaigns with activewear. It seems so obvious now but sportswear was viewed very differently back then.
Charlie Newman:  What's the best and worst part about modelling for you?
Nathalie Schyllert: The best part is definitely the travelling because unlike other people who just go to holiday destinations, you actually get to live there and meet the locals, really get a feel for the place. It's extremely rare to live in various cities in one year, if you're lucky enough to travel with work, in most careers you'd stay in one city for a year, whereas I got to move around all the time!
But simultaneously the travel is also the hardest part about modelling. I appreciate now having my family and friends around me all the time and to actually have a base. It first dawned on me to maybe step away from modelling was when I was in Miami for two months having just broken up with my boyfriend and losing my mum. I felt so lonely and knew then that I needed a more stable job. I called my booker at Models 1 and asked for advice and they suggested personal training as they knew how I was always training not just myself but some of my friends. I came back to London and had a meeting with James Duigan at Bodyism 12 years ago, which back then was based in a tiny mews studio in South Kensington. I'd read a few online articles about him because he was Elle Macpherson's trainer at the time, so I was really excited to get on board! I started the next day as an intern and doing my courses at the same time. I was busy form day one, pretty much working for free for the first 4 years, doing everything from membership to PR and so much more. After three months I'd already built up enough interest and had my own clients. You really have to put your all into it when it's a start up. It was the perfect timing for everything.
Read more: Curator Zoe Whitley on the art of collaboration
Charlie Newman:  What drew you to Bodyism?
Nathalie Schyllert: It was a very unique thing at the time. We talked, and still do, about nutrition and sleep, not just training. We look at the whole 360 approach to lifestyle which was something I had always believed in and lived by. That was why it worked so well for me personally because I didn't have to change who I was at all, my diet and training routine stayed the same, it was a natural fit for me. I was also the first woman on board so I got to have a voice on what women want out of the wellness industry too.
Charlie Newman:  What's the biggest difference between working for someone and yourself?
Nathalie Schyllert: The only difference is that I'm now doing more PR and interviews, becoming the face of the brand, but apart form that my role hasn't changed much. It's funny to compare what James used to get asked and now what I do. Sometimes I get asked, being a female CEO, what my beauty regime is and being a working mum. As long as it benefits the brand, that's all that matters to me.
Charlie Newman:  How has the wellness industry changed since you first started working in it?
Nathalie Schyllert: The whole wellness industry has changed drastically. Even supplements from when we first started – we created the first vegan supplement without bad sweeteners, and now everyones doing it! With activewear too, we were the first to make printed, colourful activewear, and now everyone else is doing that too! So in that way the industry has changed a lot.
There are so many different studios now for different types of exercise but what is still so genuine and unique about Bodyism is that we have everything. You can come to one place and do all the treatments, boxing, yoga, PT, breakfast, lunch, eat our supplements and wear our clothes. People always ask us who our competitor is but we genuinely don't have one, we're doing our own thing, people can see that we're not copying anyone. Of course we have to look at new fitness and nutrition trends, like oat milk for example, but at the core of it we stick to what we believe in and what works. If we were entirely devoted to following the trends our food menu and exercise schedule would change every day! And then in a few months time we'd find out it's not good for you at all!
At Bodyism, we do what works for ourselves and our members. Our clients are the best people to get feedback from because they are always here with their trainers, we're not a massive company where you have to speak to so many people at different levels to get your voice heard. Our relationship with our members is so important because we learn so much about our products and their results.
Charlie Newman: If you could bust one wellness myth, what would it be?
Nathalie Schyllert: I think everyone has now finally realised that the zero carb diet doesn't work, because then you couldn't even eat a carrot because it has carbs in it! For me, it's so important to have a colourful plate and if it has carbs in their that's fine. Low fat diets too are terrible because the fat just gets replaced with loads of sugar. These were trends from the 80s and 90s and people have more of an education now on what a healthy diet and lifestyle actually is.
Charlie Newman: Did you ever come across any negativity as a female trainer in quite a masculine world when you first started?
Nathalie Schyllert: At the beginning I mainly trained men but I found it to be an advantage because they'd want to maybe show off more and train harder! Our clients aren't here to bulk up, so it doesn't matter who is training who because it's a very similar workout whether you're a man or a woman.
Charlie Newman: What advice would you give to any aspiring business women?
Nathalie Schyllert: Apart from working hard, also always continue to learn. I never assume that just because I'm at this position I know everything. I'm learning every single day, not only from people within the company but from mentors outside. Having people you can discuss finance matters and new business ideas with is so important, it gives you perspective and keeps you humble.
Charlie Newman: What exciting projects have you got coming up?
Nathalie Schyllert: We've collaborated with Heidi Klein for their first activewear range which is really exciting. We now also offer a lot more perks for our members, for example priority reservations at Zuma, room upgrades in hotels etc. The platinum members especially get amazing perks, free holidays in Turkey for example. So a lot more trips and events are coming up. We have just started doing catering too with brands. We're very lucky that we don't have to push ourselves to create corporate wellness contracts, rather it travels by word of mouth from our clients to other brands. It's been an organic journey.
Charlie Newman: Lastly, who is your role model of the month?
Nathalie Schyllert: It has got to be my mother. She worked so hard as a single mum, sometimes with two jobs, and that has always been an inspiration for me from day one.
Follow Nathalie Scyhllert on Instagram: @nathalieschyllert