Two of Europe's highest restaurants have opened amid contemporary chic architecture, high above Andermatt, Switzerland
Hold onto your chopsticks. A pair of new high altitude dining outposts is open 2,300m above sea level, on top of a ski slope in the heart of Switzerland. Far from being a place for humble beer and fondue, Andermatt Swiss Alps (ASA) has brought high-level dining of another kind to the slopes by opening a pair of destination gourmet restaurants with the aim of being among the most celebrated in the Alps.
Overlooking the peaceful village of Andermatt and facing the famous Gemsstock ski mountain, they are located in a newly constructed timber building. Designed by London's Studio Seilern Architects, the structure was pre-fabricated off-site and then lifted into place by crane, ready for its stone façade to be put in place.
Follow LUX on Instagram: luxthemagazine
Following the success of The Chedi Andermatt's Michelin-starred The Japanese Restaurant, a second branch has opened on the Gütsch within Studio Seilern's building in December 2019. Complete with feature fireplaces and views of the Gotthard mountains, The Japanese by The Chedi Andermatt has 44 seats inside and 45 outside on the terrace, where diners can feast al fresco on sea scallop sashimi and Kombu-Jime mountain trout on a south-facing, high altitude sun-trap. Headed up by executive chef Dietmar Sawyere, there are high hopes that this restaurant, too, can win a Michelin star. "We don't carry it over," says Sawyere. "But we will certainly be the highest Japanese restaurant in Europe."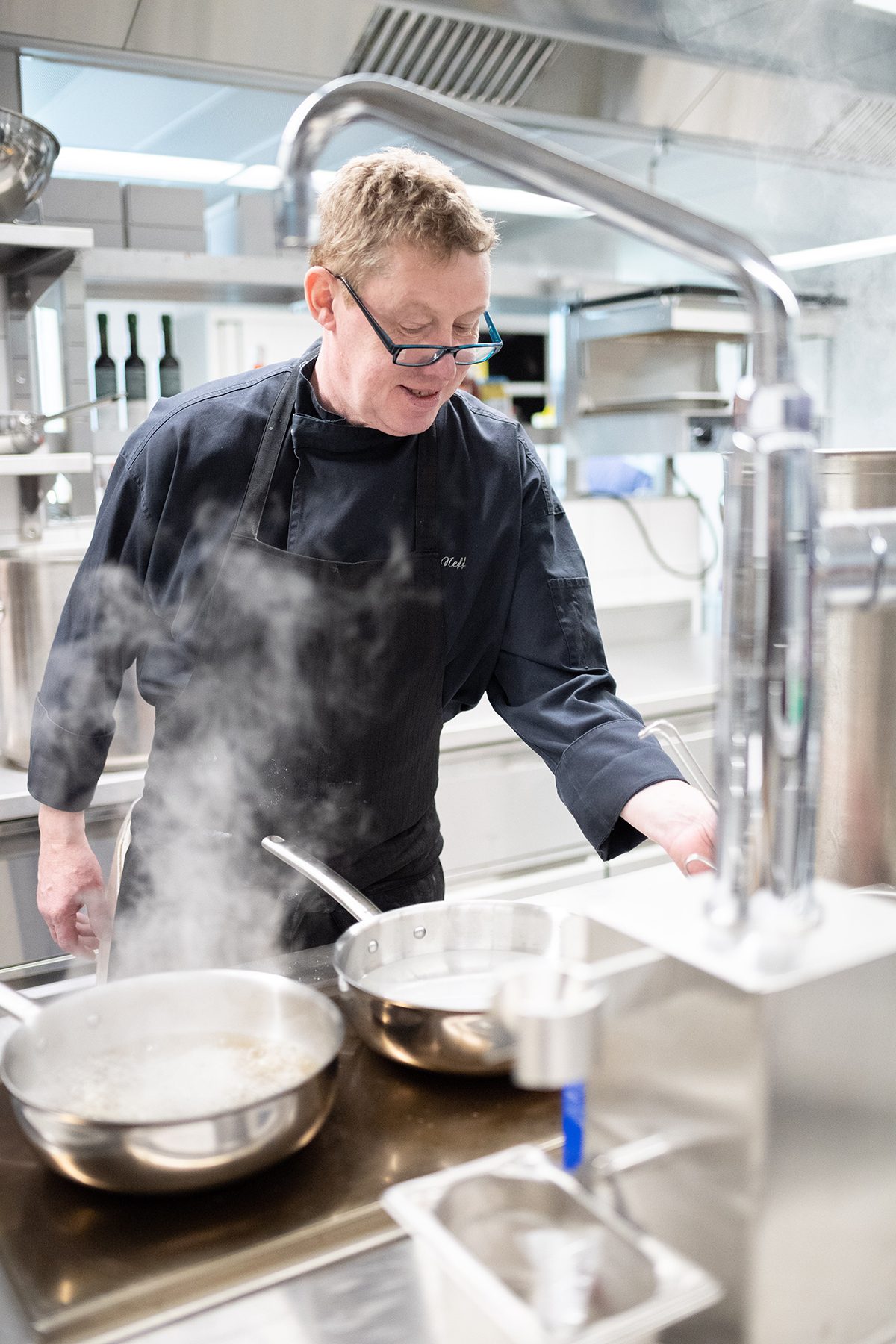 The Japanese is alongside a second restaurant called Gütsch by Markus Neff, on the ground floor of the new landmark in contemporary architecture. Welcoming skiers for lunch in the day and guests for private parties in the evening, the venue seats 66 people indoors and another 145 outdoors across two terraces. Neff is running it with a team of three other people who also worked with him at the Fletschhorn in Saas-Fee near Zermatt, which was awarded 18 Gault&Millau points until 2018. So, it's in good hands.
"We want to make a restaurant that is unlike any of the others around here – something special, something new," Neff says. "You won't see sausage and rosti here, for example. It is not a mountain hut where people eat in 15 or 20 minutes. We're a high-class, fine-dining Swiss-French restaurant where we make it all from scratch, from handmade pasta to bread. People will come for three or four courses chosen from our à-la-carte menu." Gütsch is building on the concept of mountain-top restaurant Spielboden in Saas-Fee, where Neff and his team also worked.
Unlike traditional Swiss lodges and cabins, Studio Seilern's new project is something far more cutting edge and ambitious. Christina Seilern, principle of the firm, says: "Due to the extreme weather conditions in winter, there was only a short time frame that allowed for construction. For this reason, it had to be built in two summers." Seilern says that it was also a challenge to create a design that catered for two different restaurants. Inspiration came from the idea of a Swiss hamlet, known as a hameau, "where a collection of smaller buildings creates a harmonious whole", says Seilern. Inside, there are exposed timber beams and wood panelling, while The Japanese also has an open kitchen and sushi bar.
Read more: Francis Alÿs receives Whitechapel Gallery's Art Icon Prize 2020
What can visitors eat when they visit The Japanese? It isn't all raw fish. Chef Sawyere explains that people forget that Japan is a mountainous country that has a lot of snow, especially in the north, so their cuisine, which is distinctly seasonal, reflects this. "They have very hearty, warm, winter dishes, too", he says. As a multi-course kaiseki restaurant, its diners can sample four to 12 courses, but for those who don't want to take so long eating, there are also bento boxes that hold six to eight small dishes. Sawyere says: "There might be a couple of pieces of sushi, a piece of tempura, a braised dish, a sashimi dish and a grill. I think it will be popular."
The restaurant imports its seafood from suppliers in France, Spain and even Australia, while specialist ingredients such as Kobe beef (at £270 a kilo) need to be flown in from Japan, but they have also managed to locate a supplier in Basel that has started farming prawns. "Previously it was impossible to buy fresh prawns in Switzerland," says Sawyere. He is also excited to be working with a local farmer who is rearing cattle for Japanese-style wagyu beef. "It's been three years in the making and in February we will have our first taste," he says.
Sake also plays a big part at The Japanese, benefitting from the fact that The Chedi Andermatt has the largest collection of Japanese rice wine in Switzerland. The mountain restaurant has 60 to 70 different labels on the menu – and there is even a sake glühwein (mulled wine), which makes a warming welcome for people when coming in out of the cold.
Read more: Luxury in the wilderness at SUJÁN Sher Bagh, Rajasthan, India
Thanks to developer ASA's unprecedented transformation of the village, Andermatt has become a desirable place to visit the whole year round. Not only does it have incredible hotels such as the five-star The Chedi Andermatt but also an 18-hole, Scottish-style golf course, and the SkiArena, which is the largest and most up-to-date ski area in Central Switzerland, with 180km of pistes stretching as far as Sedrun and Disentis in the next canton. Just 90 minutes' drive from Zurich and just over two hours from Milan, each of the buildings in ASA's development has been designed by a top architect, thus creating a consistently beautiful resort that looks particularly magical under snow. And now, visitors can have a dining experience in the sky to match the very best in any Alpine valley or European resort.
Rare new properties for sale
In 2020, the building of two new residential properties will commence for those who are looking to own in Andermatt Reuss, located between Andermatt's Alpine golf course and the village. Apartment House Enzian has 12 high-spec apartments (from 62 to 136sq m), some featuring fireplaces and saunas, as well as private roof terraces and gardens. Apartment House Arve has 17 apartments for sale, in a building clad with horizontal wooden boards reminiscent of traditional chalets. Inside there will be common areas for skis and bikes, as well as stylish open-plan homes looking out over the mountains. All are eligible for foreign ownership.
Find out more: andermatt-swissalps.ch
Jenny Southan
This article was originally published in the Spring 2020 Issue