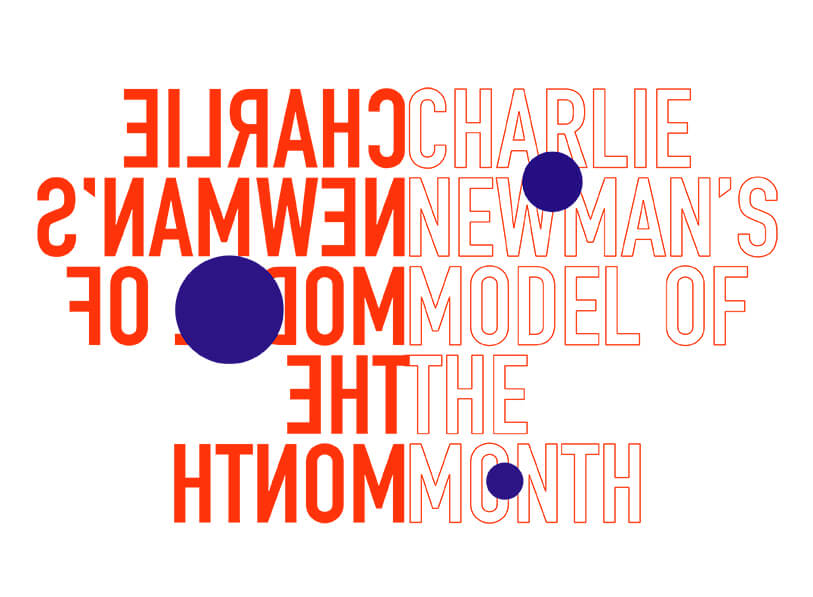 LUX contributing editor and model at Models 1, Charlie Newman continues her online exclusive series, interviewing her peers about their creative pursuits, passions and politics
THIS MONTH: Born in Germany and raised in Spain, 25-year-old Rebeca Marcos has achieved a remarkable amount in a quarter of a century. She started modelling at the age of 20 whilst studying for her Undergraduate Degree in Politics at City University and has since starred in campaigns for Whistles, Armani Exchange and The Kooples, and walked for the likes of John Galliano. She also plays music as part of electro-dance duo Park Hotel. Charlie speaks to Rebeca about self-confidence, career highlights and philanthropy
Charlie Newman: What was it like growing up in Spain and how easy was the adjustment moving to the UK?
Rebeca Marcos: My upbringing was wonderful. Family gatherings were always big and long, I was spoiled for food and good weather. We were encouraged to dance and perform for our family and the beach was super close. My neighbours and I used to go exploring the woods as small children and later on, I joined the scouts at school and we used to go to this old watermill that had no electricity or running water and also no parents nearby so that was wonderful.
Follow LUX on Instagram: the.official.lux.magazine
As a teenager Barcelona was a great city to be – very multicultural and beautiful. After school, in the warmer months, we could go to the beach just to hang out and even in winter it's always sunny. I was a very happy child. I went to a German school from Kindergarten through to the 12th grade, so I grew up in a strange place culturally speaking. They are very opposite cultures in many ways so moving to London didn't really feel like a cultural shock. I'm quite sensitive and introverted so I think I internalised the British default setting of being reserved and socially awkward quite quickly. I could read the discomfort in peoples faces with the slightest bit of over sharing, but London is also the place where I learnt manners! Either way, I was one of those European teenagers who loved Harry Potter and my graduation gown was of the colours of Gryffindor so I was living the life, plus the music scene [in London] is so much more stimulating than Barcelona's.
Charlie Newman: You have graced the pages of many high fashion glossies as well as walking for top brands on the runway. What has been your favourite job so far?
Rebeca Marcos: That's such a hard question! I have had so many nice experiences and been lucky to work with some amazing creative geniuses. Years ago, I did a shoot for Urban Outfitters with Magdalena Wosinska and we just spent days hanging out topless in nature, riding quad bikes at Dave England's house (a stunt performer in Jackass) and listening to music. It was great fun. But then I also shot the s/s15 campaign for Phillip Lim in Marrakech with Viviane Sassen and that was like a dream. Everything was beautiful, everyone was chill, we shot without hair and make up and then had a day left to go explore the YSL museum and the Souks. The wonderful production team (who had just finished working on Mission Impossible) helped me buy a gorgeous rug which they took to the hotel for me and I still have. The pictures are still some of my favourites and honestly, I think it was one of the most inspiring shoots I've ever been a part of. I also really love Christopher Kane both as a human and a designer. Fitting and walking for him is a very graceful experience.
Charlie Newman: If you could shoot with any photographer who would it be and why?
Rebeca Marcos: Carlota Guerrero. She is a brilliant photographer from Barcelona and I love her work and I bet she is a great human to work with.
Charlie Newman: You shot The Kooples S/S15 campaign with your boyfriend – what was that like
Rebeca Marcos: It was a great experience. They are some of the nicest pictures we have together and it's always wonderful to shoot with your best friend and in Paris. It was also the first time I shot with my guitar on set and in a way it was great to have Kristian there, but it was also a challenging experience which I grew from. He was the musician in the room, he was getting all the attention for that and I didn't know if it was the fact that I am a model, or the fact that I am a girl in the underrepresented world of female musicians, or if I was being oversensitive and too insecure about my musical side. I really had to pull my pride together and to say: "No, actually I'm going to pull my guitar out as well. Nobody has invited me to do so but I'm not just going to stand here as a hot groupie because I really don't think I need to." It was awkward but I am so glad I did. It was a drama that happened exclusively in my head mind you, but still it was a very important experience for me.
Read more: How Los Angeles became a world-class art capital
Charlie Newman: How easy was the transition from modelling to musician? Do you find they compliment one another or do you find you have to prove yourself twice as much?
Rebeca Marcos: Well I don't think I ever transitioned. Modelling is something I don't think you can have any control over, it's something that happens around you while you are "being yourself". We are like muses for hire. I have done music since before I started modelling and I'm still doing both. There's always people who think that if you are beautiful you can't have any skills but who cares? Not me, I'm the one with both. I don't look in the mirror and go, "shit I'm too beautiful to write some music today." Who the hell thinks like that? People think they are ugly and stupid, when really their only problem is their self-esteem and binary thinking. I don't subscribe to the capitalist idea that one has to work hard to be valued. I think if you love yourself then people won't be distracted by your insecurities and instead pay more attention to whatever you want to express. They'll figure out your value by themselves. And if they don't, block them! I work with passion and that is always more productive than trying to prove yourself to imagined strangers. And if I'm supposed to work twice as hard then I'm probably heading for failure. I hope I'm not. Anyway, I definitely think music and fashion go hand-in-hand. They are both informed by and inform culture, and they inspire one another. So in theory it should be easier for me to work in both. We'll see!
Charlie Newman: So can you tell us a bit about your band Park Hotel?
Rebeca Marcos: Park Hotel is a dance band. We are a duo fronting it, but we are really a great live band of up to 6 musicians: guitars, synths, drums and percussion. The sound has a post-punk feel to it, but it's hugely influenced by funk, EDM and even disco. But it's got a bit of a dark vibe too. It's like a nihilistic party. Me and Tim – the other half of the duo – met 4 years ago. He had been concocting this project in his head for a while and we've been gigging for a couple of years now loving life.
Charlie Newman: What music did you grow up listening to? Do you come from a musical family?
Rebeca Marcos: Yes and no. My parents aren't very musical but my sisters played violin, cello and piano whilst I was growing up. My dad exclusively listened to about 5 different albums of about 4 different bands, the only international ones being Pink Floyd and Santana – great musical taste, just a little limited. My sisters and my mum just liked the radio, and my sisters were hugely into the Spice Girls, Shakira and Britney Spears. It wasn't until I was a teenager that I got to expand my musical horizons and I found out that Pink Floyd's early stuff was a whole different kind of psychedelic.
Charlie Newman: In light of the #MeToo movement, is there anything within the fashion and music industry you would like to see change?
Rebeca Marcos: Well, I believe values are stronger and more reliable sources of change than rules. Sure, models shouldn't be sent to photographers that are predatory and same with producers that never get called out on by money-minded labels. But both industries are becoming more and more saturated, women just need to keep standing up for themselves and getting together, and the roles that are available to be played by individuals of any gender should be more fluid. If people truly focused on being more compassionate and respectful from the get go, these things wouldn't be hard to understand, no matter how privileged you are.
Charlie Newman: What advice would you give to young models starting out now?
Rebeca Marcos: Be strong, focus on your happiness and try to experience the teenage years of your career as life experiences and not as career building. Young girls shouldn't be expected to have figured out what type of brand they want to develop, or be pressured into having a stellar career immediately.
Charlie Newman: Are there any philanthropic causes that you are particularly passionate about?
Rebeca Marcos: The charity of *Talk To Your Local Homeless Person* even if you just say: "how is it going?" and spare some change. They need to be humanised and we are all individually responsible for the people who have fallen through the cracks of our society and need help. We don't have to give change to every single one of them, that is not our responsibility, but at least keep them and their pain in mind, because that is the least we can do.
Follow Rebeca Marcos on Instagram @rebecamarcosrosa  and her musical endeavours via @parkhotelband