Gucci is the biggest Kering brand and, as a producer of leather and fashion garments, the one with the biggest sustainability challenges. In a candid exchange, Robert Triefus, Gucci's EVP and Chief Marketing Officer, tells LUX how the label is tackling them.
LUX: Is there an awareness among all your staff of the broad Kering vision?
Robert Triefus: We are in luxury fashion. For some individuals, they will feel there is a contradiction in terms between sustainability and luxury fashion. But I think that you have to start from the premise that we are a business, a for-profit (not a not-for-profit) one that believes in its responsibility to lower its impact in terms of carbon footprint, waste management and social issues – how we can be responsible in our community. As the big picture, I think that this is the framework that we, as a group, work within.
Follow LUX on Instagram: the.official.lux.magazine
LUX: That big picture means not just reducing environmental impact but doing good in areas such as gender equality. Is this on the rise?
RT: It's interesting because one of the impacts of the inauguration of Donald Trump as president of the United States and his rather nationalistic approach has been that brands generally are looking at how they can contribute towards the debate on the promotion of certain rights. Equality as a whole is a significant topic in America and beyond because it has that kind of reach.
Going back to the mission of Kering, one of the key issues has always been the idea of gender equality, so when we launched CHIME FOR CHANGE [co-founded by François-Henri Pinault's wife Salma Hayek, a leading campaigner on gender equality issues] three years ago, it was something we believed in both as a brand and as something that makes very good sense given the number of female clients we have. But also within the framework of Kering's overall mission, it resided very well under that overall umbrella.
Today, I think the issue of gender equality is widely seen because it has built momentum and it has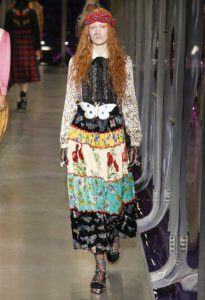 acquired much more engagement in the media for a lot of different reasons. So, I think that over the past three years we've been engaging in this campaign because we believed it was the right thing to do as a campaign, and as a topic.
LUX: In the Dining Issue of LUX we have an interview with Marc Glimcher of Pace Gallery who says that they are doing public art because the public sector doesn't have the money. Likewise, is no one stepping in to do what you are doing?
RT: I think over the past 10 to 20 years, the private sector in its different manifestations has become much more active partly in the growth of understanding of the role that corporations, brands and wealthy, successful entrepreneurs can play. If you look at the Bill Gates and the Warren Buffets of this world and what they are doing today, you can see that they feel they have responsibilities and the capacity of a small country to carry them out.
Read next: Abercrombie & Kent founder Geoffrey Kent on the value of luxury travel
LUX: How does the responsibility element, the CHIME FOR CHANGE, link with the sustain-ability element of Kering's strategy?
RT: Within Kering's ten-year strategy there are pillars. One of them is focused on the environment, and all what we do goes with that. When you use the word sustainability, it's immediately associated with the environment. But the second pillar is about social good with campaigns such as CHIME FOR CHANGE on gender equality and other philanthropic activities. The third pillar is more in the area of innovation. Kering looks at sustainability in a broad sense under the notion of responsibility to the environment and to humanity. This innovation is driving ways of doing business differently across the area of sustainability.
LUX: Gucci and CHIME FOR CHANGE support women's and girls' causes and you partner with the action group Global Citizen. It's a good ex-ample of a corporation taking responsibility for social campaigning. Is this continuing?
RT: Yes, the fact that equality is more under question than it was a year ago, certainly in the most developed country in the world [the US], means that we as a campaign movement are going to be busier than before, probably. We are always looking for ways we can be more effective in getting our message out there. Music as a convening force will be part of what we do. We will be having festivals in New York and Berlin. There will be another CHIME FOR CHANGE hackathon supported by Facebook. We are looking for something in the art community, and will continue to be active as we have in the past, and what we could do in the future.
LUX: Will consumers start to demand that luxury brands are responsible? Are you seeing this now
or do they just not care?
RT: No, I think they assume that we are responsible and sustainable so I think it would become punitive if it becomes apparent that we have not been acting in that way. At the same time I think – and it's a bit of a cliché now – the millennials and generation Z are definitely growing up much more aware because they are living in an environment that is more in question. Therefore, they are increasingly aware of the negative impact that companies can have. So, let's say that the expectation that you are responsible is put at an even greater premium.
LUX: As we go forward, will you push Kering's sustainability message forward more in Gucci?
RT: I think the point is that we are a for-profit, not not-for-profit, so we are de facto never going to be perfect. Now, we are not going to make this the unique selling point of our brand, maybe it's different in the case of Stella McCartney as it is part of her DNA, but by and large it is something we believe companies and ourselves should be doing. We are not going to shout from the rooftops because frankly someone could justifiably say, "hang on a minute, you should be that way, so why are you shouting about it?"