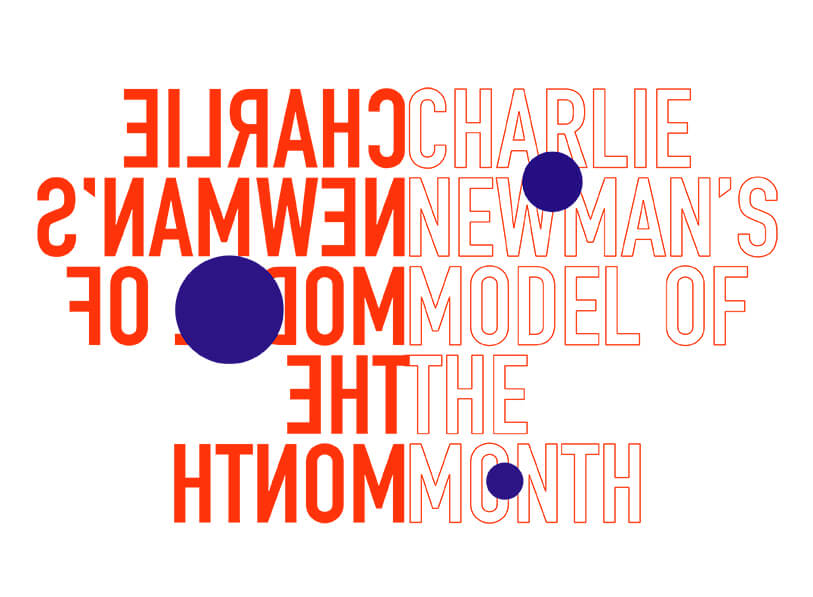 LUX contributing editor and model at Models 1, Charlie Newman continues her new online exclusive series, interviewing her peers about their creative pursuits, passions and politics
THIS MONTH: Emma Laird was scouted when she was 18 by Models 1 at a festival  covered in mud, glitter and last night's make-up. Since then, the 22-year-old from Chesterfield, England has appeared on the pages of some of the world's most famous magazines including Elle, Grazia, Glamour and L'Officiel, and has starred in a campaign for United Colours of Benetton. She is also an actress and avid reader, as Charlie discovers
Charlie Newman: Firstly huge congratulations on your burgeoning film career! Can you tell us a bit about it and what you're working on at the moment?
Emma Laird: Thank you so much! I always loved acting at school, but felt maybe a little naive thinking that's a valid career path. Modelling set me up because I knew how much effort went into a photoshoot, the lights, the costume department etc…there are similarities there which transfer to acting. When I went to New York initially for modelling back in 2016, I started looking at studying whilst I was there. I went to an open day at New York Film Academy and the casting director there said that he had a spot for me, but I had to start on Monday. I said yes and have never been so thankful for making such an impulsive decision. This year I got two short films, one in particular that I'm very excited about. It will be hitting film festivals globally next summer and I can't wait to see where it goes.
Follow LUX on Instagram: the.official.lux.magazine
Charlie Newman: How have you found the progression from modelling to acting?
Emma Laird: It's hard because modelling is addictive. It's very easy to get addicted to money, but there comes a point when you go to work wishing you were doing something else and you realise you can't be doing something with your life just to score a bigger pay cheque. I would always turn down a paid modelling job to work on an indie film. As long as I can pay my mortgage off each month I'm happy doing free shit that I'm excited about, smaller projects, just learning and working with talented people in film is what I get excited about. I'm trying to enjoy the ride and continually learn in the mean time; reading scripts, watching other performances, reading, writing and just educating myself in general. Some of the greatest actors are some of the smartest people. If you land a role set in a different time period you have to know your shit. Politically, who was in power at that time, how were women treated, what were their roles in society at that time, how did people dress, what things had been invented, what were people campaigning for? It's all relevant. So I'm trying just to continually progress with education and spend more time with my head in books that on social media.
Charlie Newman: Being a model and actress must require a multitude of emotion and a lot of energy when you turn up on set. Does it ever all get a bit much?
Emma Laird: Yes it does, it's hard. I think loving yourself is something every model needs to learn. You are constantly under scrutiny. Getting naked in a room full of people, going in bare-faced when you might have a few spots, people asking your age and what you plan to do with your life… Of course that requires confidence, but more importantly you have to love and appreciate yourself as a person in order for that not to affect you. Modelling more so, I feel the pressure because they've booked me on looks alone. At least with acting I've gone through that audition process and they've booked me because they see something inside me. Acting is more of an escape from my own emotions or I use the stuff I'm dealing with and build it into a character which offers me a release.
Charlie Newman: How do you think the film and fashion industry compare when it comes to female empowerment?
Emma Laird: For me it's been very circumstantial. Sometimes it's an all girl team and it's fab, sometimes it's been the women who have scorned me for having hips. Sometimes I've been vulnerable in a room with only me and a male photographer. In general I think both industries are progressing with more female directors, photographers etc. which have always been male dominated but I do think we've got a way to go in taking women seriously and judging someone on their talent not their gender.
Read more: Charlie Newman interviews model, actress, filmmaker and activist,Florence Kosky
Charlie Newman: What would you like to see change within both industries?
Emma Laird: I'd love to see women in male roles and vice versa. I hate to think that a boy would grow up with such a talent for styling but would never pursue it because he thinks its too feminine or is scared people will question his gender. I sometimes think these issues are linked to homophobia. If people were more accepting of the LGBT movement and if it was normalised in more rural areas (because London is very progressive, it's the small towns that still have a long way to go) I believe there would be fewer problems with gender roles/norms and that people would feel less obliged to take on a career based on their gender. So yes, I'd love for everyone to stop worrying about men wearing pink and on a more serious note, all industries hiring on a strictly talent and skill basis!
Charlie Newman: You have such a strikingly beautiful look. Whilst growing up, did you ever feel like you needed to conform to more stereotypical beauty standards?
Emma Laird: You're very flattering Charlie thanks! I tried too definitely but there came a point when I realised that heavy make up didn't suit me and nor did fake tan. I either had to embrace my look or hate it. I learnt to deal with it, and I had a really great group of friends in secondary school so whilst I was never the 'pretty' one, I wasn't bullied for my looks after about the age of 12. It's funny, I always hated not having boobs growing up, I developed very late and now I actually have B cup and wish they were smaller! I don't think we're ever happy with our bodies are we?
Charlie Newman: What do you do for you, to keep you grounded?
Emma Laird: I go back North all the time, around twice a month. I also have a lot of friends with 'normal' jobs, who don't live in London which I think helps. It's great to be able to live such a normal life and disconnect from fashion and the media whilst having such an extraordinary job. Don't get me wrong I have amazing friends like you in fashion, and it's so exciting knowing so many creative and truly talented people. I just personally like the balance of both. I feel like I have the best of both worlds.
Read more: Co-founder & CEO of Spring Francesco Costa on creative co-working
Charlie Newman: I know that you're a committed vegan. What made you make this transition?
Emma Laird: I kind of did it accidentally at first. I don't think I knew what a vegan was until after I became one. I was restrictive with food groups when I first started modelling so I wouldn't eat that stuff anyway. I then started to research vigorously about food. I always loved learning and felt like I had to know whether I was doing my body good or bad by eliminating these things from my diet. That was when I started to realise there was all these health complications and risks with consuming dairy and meat that I started to call myself vegan.
Charlie Newman: Do you have any tips for aspiring vegans whilst travelling? I presume it's quite difficult to maintain whilst on the move.
Emma Laird: I always say just be low maintenance. You can't expect vegan joints all over the world but you can sure as hell expect supermarkets with fresh produce, places that sell side salads, fries, meals that you can 'veganise' and ask for things off of the menu. At the end of the day you're giving a restaurant your money so you should get what you want. You just have to be a bit more creative when you travel.
Charlie Newman: Are there any environmental causes you're particularly passionate about?
Emma Laird: I'm actually spending the entire month of August plastic free, meaning all of my produce from shops I'm buying without plastic. I'm very passionate about our oceans – we should all be passionate about the oceans because we 100% need them to survive. The majority of our oxygen comes from the oceans, more so than trees and plants on land. It's almost that out-of-sight, out-of-mind view that people have. We're not really taught about environmental issues in school and how we can live a more conscious lifestyle, supermarkets make it very difficult to live eco-friendly when almost everything is wrapped in plastic. I'm not saying plastic isn't effective. I know that it allows for produce to stay fresh whilst it's being transported but I refuse to believe that other, less harmful materials can be used or even reused.
Charlie Newman: Lastly, who's your role model of the month?
Emma Laird: My role model of the month is Sylvia Plath. I've been reading a lot of her work recently. It's so inspiring and resonates so well with me that I almost create this world in my head as I'm reading her poems. Her and Leonard Cohen. He can make me cry like nobody else, his songs especially. There's this verse in one of his songs that goes:
I walked into a hospital
Where none was sick and none was well,
When at night the nurses left
I could not walk at all
(Lyrics from Teachers)
I just love it. So I guess poets are my role models of the month!
Find Emma Laird on Instagram: @emmlaird