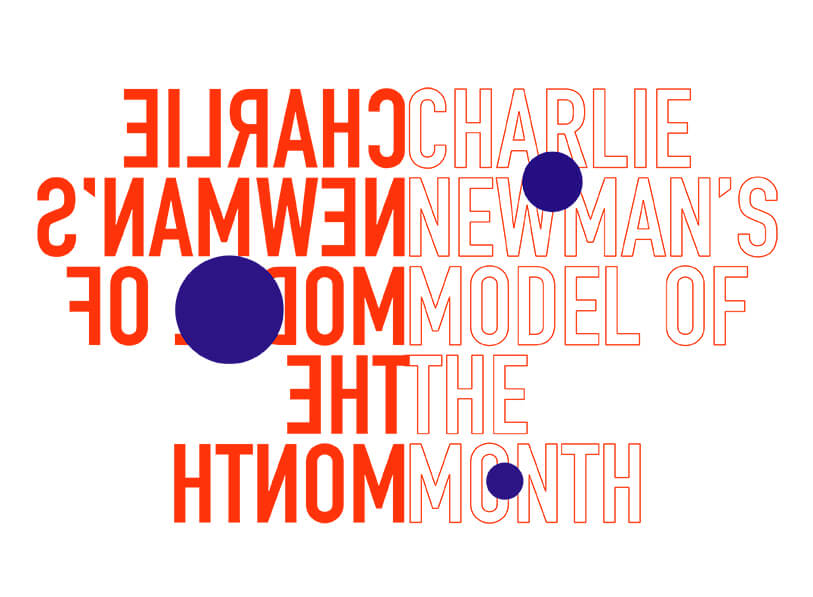 LUX contributing editor and model at Models 1, Charlie Newman continues her online exclusive series, interviewing her peers about their creative pursuits, passions and politics
THIS MONTH: At the age of 30, Adrianna Gradziel's career resembles someone twice her age. With campaigns for La Roche Posay, Clarins, Vichy, Pandora, a Mercedes TV advert and a Van Cleef and Arpels perfume advert under her belt, Adrianna branched off into the world of acting, landing roles in two French TV series as well as the French Rom-Com I kissed a girl. Born in Vienna, she speaks and has performed in three "and a half" languages: English, Polish, French and a little bit of Italian. Charlie speaks to Adrianna about the development of her career, female solidarity, and dealing with rejection
Charlie Newman: What was the reaction from family and friends when you started modelling? Were they supportive?
Adrianna Gradziel: I don't know if my parents were all that supportive with the idea of me becoming a model because
they thought I would be better off studying and staying at home. I started, like a lot of models, really young at 15 so I moved out of home at 17, inevitably they were a bit worried. But then after some time they realised everything was going well, that I didn't party wildly and that they could have confidence in me. At the beginning they thought the job was dangerous, with strange people and maybe a bit superficial, but then they saw that I was making something out of my life, and how happy I was working.
Follow LUX on Instagram: the.official.lux.magazine
Charlie Newman: Was modelling something that was always on your radar or was it a total shock when you were approached?
Adrianna Gradziel: Actually, modelling wasn't something I was thinking about at all. But then I was approached on the street by a mutual friend of my parents who was a model agent in Vienna and he was the first to sign me. I felt really flattered at that age because all of us in our teens are really uncomfortable in our bodies. So for someone to tell me I could model and go and work in Paris made me feel great about myself.
Charlie Newman: What has been a career highlight for you so far?
Adrianna Gradziel: One of my career highlights so far has definitely been working with Jean Paul Goude with whom I shot a Galerie Lafayette campaign. He's such an incredible artist – he was the guy who basically created Grace Jones and the artist she became. I was so impressed by the way he works because he is super friendly and knows exactly what he wants, he gives good direction and he doesn't have to be rude to get people to listen. I really love working with people like that.
In October, I had a job in Spain where I worked with a Spanish director called Victor Clement for a TV commercial. He was exactly the same type of person who is very creative, loves his job and comes up with great ideas quickly. It was amazing to see someone so creative within the constrains of such a commercial job, I loved working with him. For me, it's about working with great people.
Charlie Newman: If you could work with any photographer who would it be and why?
Adrianna Gradziel: There are a lot of people whose work I really admire but are impossible to work with as they have died. Helmut Newton for example, whose imagery of strong and sensual women I love because it's so powerful. I also love the softness of Paolo Roversi's imagery, it's very feminine too but in a different kind of way, it's more vulnerable and sensitive.
Charlie Newman: What would you say are the best and most challenging parts of modelling are?
Adrianna Gradziel: The best parts of modelling are definitely travelling and meeting fun, creative, crazy people. I wouldn't have got to where I am today without all the bonds I've created with them and you're paid really well. What is definitely more challenging, and for me personally, is that I had a little too much weight for the job. It was really hard for me to live up to the expectations of the job; to always be in shape, always happy, always smiling. Sometimes you have to be a little bit of machine. I'm a very sensitive person, I'm not the same person everyday so sometimes I wouldn't feel so great, but that immediately comes through in your work. This is very tough because you're expected to be this joyful, sparky person all the time and if you're not then people aren't afraid to tell you you're not on top which is super hard.
Another part is that you can be really lonely a lot of the time when you're working. When you move out of home so young you don't have friends everywhere, you're constantly travelling and often alone. One negative which I have now found to be a positive is the fact that you don't know when or where your next job is going to be. At first it's hard to adjust to this carefree lifestyle, but now I enjoy the fact that not every day is the same. Also when you're young it's really hard to stand your ground when people are being rude or expecting too much of you. Now that I'm 30, I'm not afraid to speak up.
Charlie Newman: What was the process between you transitioning from modelling to acting? Has it always been on the cards or was it something you just fell into?
Adrianna Gradziel: Acting was something that has been on my mind since I was younger but I never really had the courage to say it out loud, it always seemed like some weird dream you can never actually do. Then when started modelling I kind of forgot about it, but my agent and ex-boyfriend in the same week mentioned that I should try acting because they thought I might like it. I then enrolled at the Cours Florent and I quickly realised how much I enjoyed doing it. The transition from modelling to acting is tough though because you don't feel legitimate at the beginning. So many models try acting, yet not so many are good at it and also because you're pretty, people often think that opportunities come more easily. I always had the feeling that I needed to be better and do more so I could prove them wrong because models are seemed as superficial etc. I even cut my hair to make me look more interesting or maybe more arty, but in the end I think it all comes from inside.
You just have to train really hard to be a good actor, you can't just rely on natural talent. I didn't feel good enough to be an actress at the beginning. It wasn't until only recently that I started to believe in myself. You might think acting and modelling are two similar jobs because it's about an image on a screen, but it's not at all the same. Acting is about emotions, whilst modelling can be but it's mostly about selling something ,which are two completely different things. A director's camera and a photographer's camera expect two different things from you.
Read more: How Hublot's attracting a new generation of customers
Charlie Newman: What has been your favourite character to play so far and why?
Adrianna Gradziel: I think my favourite character so far was Natalia from a French comedy TV show. It was a great role. She was a Polish lady who moved to France with her husband and was really unhappy with him so she was very grumpy all the time! I loved playing this character because she was a foreigner in the country she lives in and felt lonely, which of course I could relate to. Mainly, it was fun to play the role because it was a comedy and a cliché of how we see Eastern people. I really enjoyed playing out this cliché, for example, Polish people only eat potatoes and all those kind of jokes. The preparation for it was interesting too because I had to have a Polish accent in English! It helped train me in accents and apply it to future projects.
Charlie Newman: If you could work with any director who and why?
Adrianna Gradziel: Wow there are so many! Firstly, I love Wes Anderson movies because of all the juxtapositions. They're childish yet elegant, deep but shallow, entertaining but violent all at the same time, which is a most amazing combination. I love Pawel Pawlikowski's work, it's extremely beautiful whether it's the frames, the light or the writing. His films are very moving, I feel like he is a director who really has something to say and that it's really crucial for him to tell the story, it's in his flesh.
Charlie Newman: What was your favourite film growing up as a child and what's your favourite movie now?
Adrianna Gradziel: My favourite movie when I was growing up was all the James Bond movies because we watched them with my family and it was always such a pleasant family moment. Growing older, tastes change. It's difficult to pick one movie but I think The Double life of Véronique has moved me the most, it has a special place in my heart.
Charlie Newman: With acting and modelling comes relentless rejection which can be extremely tough -how do you overcome this? Do you have any advice for other aspiring models/actors on how to combat
it?
Adrianna Gradziel: This is a great question because there aren't many jobs out there where you experience daily rejection. At the beginning it was so tough because I permanently felt that it was for a personal reason, therefore I took it personally. I was constantly trying to adapt to something I could't control. Then one day when it wasn't bearable anymore I thought maybe I should actually start doing some spiritual evolution inside of myself, see the bigger picture and not take myself too seriously. Now, I know if I don't get a job it's only because it's not meant to be, and to have more faith in myself. Also I think if you chose this line of work, you have to accept that rejection becomes part of your daily life and you shouldn't see it as something damaging, but instead as something constructive. Rejection makes you learn about yourself, so I think it should be seen as more of a blessing than an injury.
Charlie Newman: You are working within two industries that are heavily involved within the MeToo movement. From your experience, is there anything you would like to see change personally? How do you think both industries can better themselves?
Adrianna Gradziel:  The MeToo movement is highlighting a huge global problem, affecting every industry. What I would like to see improve more is female solidarity. We can't break out of the patriarchal society without coming together. We have to overcome the intimidation we feel by a woman who might be older than you, or prettier than you or whatever. If we are all looking out for each other then we can help one another to stand up for ourselves in testing times. Once that happens on ground level, then hopefully it will filter up to a political and economic level too.
Charlie Newman: Who's your role model of the month?
Adrianna Gradziel: I have a a few! My mum, because I'm always so impressed by the fact that despite her age, she still sees life through a child's eyes, she has so much energy and is very emotional and generous. My friend Valeria for being such a tough warrior and my acting teacher Tom because I look forward to his classes so much. They're all very powerful people who give me light, inspire me and go further.
Follow Adrianna on Instagram: @adriannagradziel