Orange peeled with glassware. Image by Patrice de Villiers
In this series of interviews conducted in partnership with Gaggenau, LUX speaks to four artists, who are seeking to alter our perspectives of the world through their innovative practices and

meticulous craft
Creativity is an essential part of humanity. Whether it's a painting, sculpture, building, object, or a plate of food, we make things to better understand and appreciate the world in which we live.
Follow LUX on Instagram: luxthemagazine
As one of the original pioneers of kitchen design, German-brand Gaggenau has long supported craftsmanship through the making of its own range of elegant high-tech products, and through collaborations with like-minded makers. Each of the four artists below was asked to create a work of art to celebrate the launch of the brand's new steam oven range, engaging with the themes around sensory experiences, sustainability, and innovation. Here, we discuss their unique forms of creativity.
The Dance of the Flying Fish. Image by Patrice De Villiers
Patrice de Villiers
Food photographer
What made you decide to specialise in food photography?
I studied photography, film studies and English Literature at university. Back then, my photography element mainly consisted of shooting portraits of aspiring musicians and actors. It wasn't until I came to London to assist a still life photographer that I was introduced to the concept of using food as a subject matter, and looking at it in a different way. Still life is a difficult discipline I think, but with food you have everything already there; it's got form, texture, and colour. It gives you a head-start in making what's hopefully an amazing and impactful image. 
Follow LUX on Instagram: luxthemagazine
What comes first the ingredients or the photographic concept?
If it's a commercial job, I'm given a brief and an ingredient and the concept comes out of observing it, thinking about it. I always try to think about it differently so that if you look at the image of parmesan or asparagus or whatever it is, you think I would have never seen it visually in that way. But then at other times, as I do now with a new project, I have a particular concept in mind and in my forays to the markets, I've been thinking about which ingredients would best suit the idea. 
How do you think an image can contribute to a person's experience of food?
It can inspire. If you see an ingredient or dish photographed in a beautiful way, then why wouldn't it inspire somebody to go off and create something? A publisher once said to me that most cookbooks are aspirational, meaning that an awful lot of cookbooks are bought not necessarily to cook from. People have them as pieces of art to simply look at. 
The Octopus and the Belt. Image by Patrice de Villiers
Parmigiano with Grapes. Image by Patrice de Villiers
Your images often have a distinct painterly quality, how do you achieve this effect with a camera?
It's less to do with the camera and more about the lighting craft so I observe the object and I experiment with light on it in various compositions. With experience, you learn instinctively where things should be and equally, where they shouldn't be.  When I come up with my ideas, I certainly don't do it all on set; I sketch out almost all of my work. 
When I was at Uni, I was particularly struck by Edward Weston and his beautiful photographs of peppers. They're black and white so you're not distracted by colour. He just wanted to focus on the incredible form and texture, but the beauty of the ingredient, of course, is in the eye of the beholder. When I'm shooting a food editorial that needs let's say a pepper or an orange, then I will go and get it because if you've only got that one thing in the image, as Weston only had his pepper, it has to have character. 
Read more: Van Cleef & Arpels CEO Nicolas Bos on the poetry of jewellery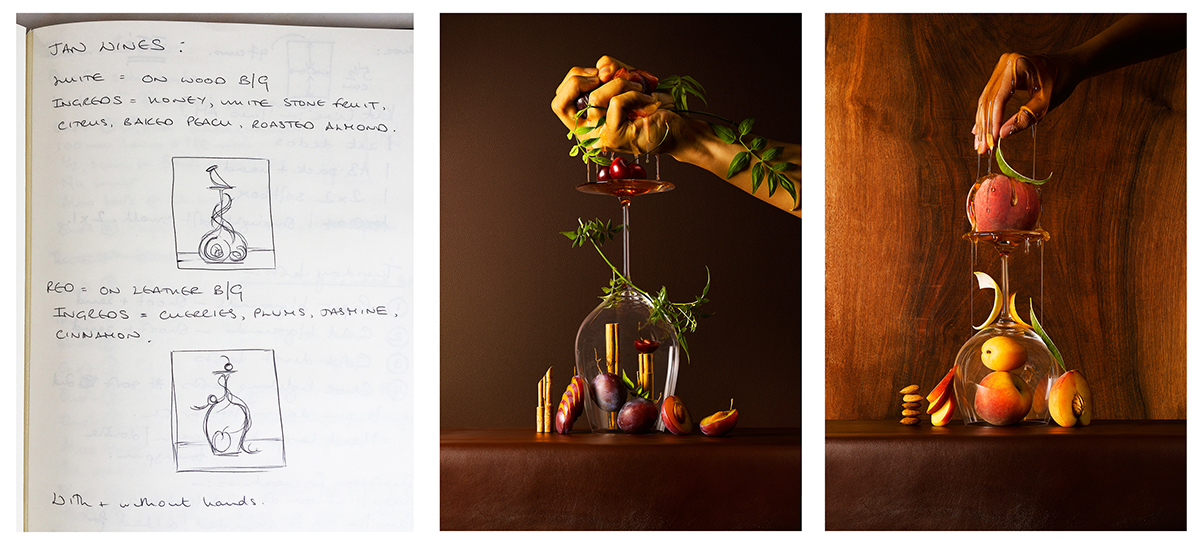 Jan Wines (with sketches) by Patrice de Villiers
'Food is definitely a natural form of art. The joy of photography is that I get to […] abstract it so that what people might view as something purely edible becomes something else.'
I was shooting some endives for the Independent a few years ago. It was when I went closely in with a longer lens that I could see they had tiny hairs coming off the leaves. It was about the intimacy [of the image]. The hairs of the yellow endive were just close enough to slightly touch the red one – it's a tiny thing, but it's about finding that beauty. I've photographed practically everything on the planet in the edible world and there's usually something incredible about it whether it's something quirky or beautiful.
Touch Softly. Image by Patrice de Villiers
Tender Kiss. Image by Patrice de Villiers
Celery Cheese (with sketches) by Patrice de Villiers
Has this current period affected your perspectives and relationship to food?
During this time, working from home, being isolated, I think food and meal times have become the punctuation for many people's days. It gives you some sort of schedule, something to focus on when everything else is so hazy, something to look forward to.
How do you think your practice aligns with Gaggenau's ethos?
I feel that we come from entirely the same place. There's a shared dedication to craft and to [producing] the ultimate in quality. We both pay attention to the really tiny details and have an eye for beauty.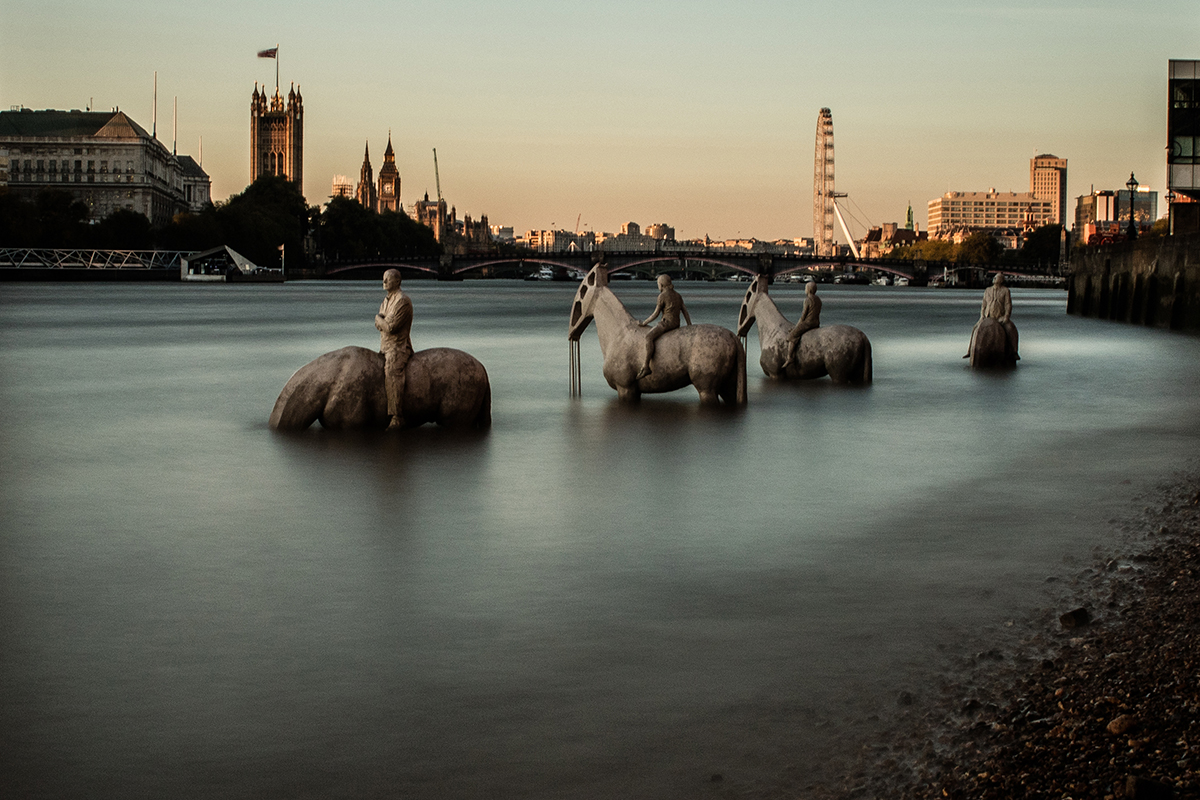 'The Rising Tide' (2016), The River Thames, Vauxhall, London by Jason deCaires Taylor
Jason deCaires Taylor
Underwater artist
How did your interest in ocean conservation progress into making underwater art?
I studied public sculpture at university so I always envisioned a career in the arts, but at the same time, I had a love for the sea and I trained to be a diving instructor, which I thought could be a hobby or part time thing, but then slowly, I started to think about the two things being connected. I became disillusioned by public art because besides its inherent message and aesthetics, I felt that it also needed a practical reason to occupy the space. It was through diving and exploring the underwater world, that I realised I could create artworks that also worked on a practical and functional level.
Read more: How Andermatt Swiss Alps is tackling climate change
What are some of the challenges of working underwater?
They are all very challenging projects; I haven't done an easy one yet. First of all, there are the materials. Most public sculpture uses metal either foundry castings or armatures, but underwater, that's not a very sustainable material, and practically it's quite difficult to implement so we use types of cement that are formulated with marine biologists. We have to make the works extremely heavy to survive the harsh marine elements as there are a lot of forces taking place underwater. There's a balance between trying to make the works that are solid and can be attached to the sea floor without creating monumental logistical challenges on land.
How much does the location of the sculpture influence its form?
It's really vital that each project has a strong connection to the place where it's set. There are a lot of community consultations and for a lot of the projects, I've actually lived in the locations for many years. It's only by spending time with people, learning the languages and getting to know the local culture, that you're able to produce designs that are relevant. I've also cast a lot of people from local communities so that they feel more connected to the work. On a practical level, there are many different regional currents and the transparency of the water differs, along with the marine life, which are all important considerations when creating a work.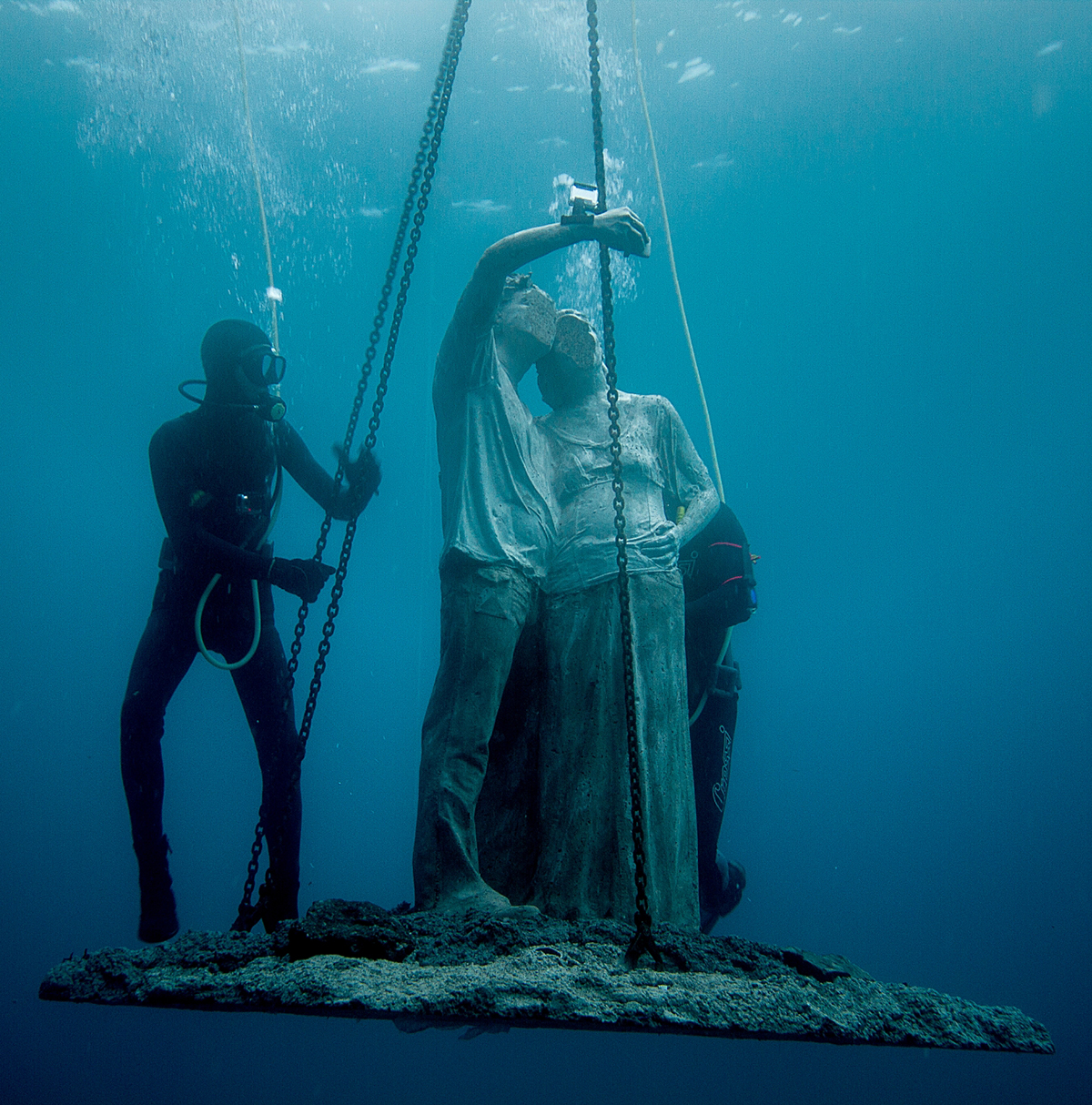 Top image: 'The Coral Greenhouse' (2019) at MOUA, The Great Barrier Reef, Queensland, Australia. Below: Installing 'Disconnected' (2016) at Museo Atlantico, Lanzarote. Both pieces by Jason deCaires Taylor
Jason planting fire coral on his sculpture entitled 'Man on Fire' (2011) at MUSA, Mexico
As your works are naturally transformed by the sea, they appear as ruins from another age or culture. How do you think this contributes to the way viewers respond to the works?
I always felt that it was like looking at ourselves from a wider angle or from much further away. We have this inbuilt desire to conquer nature; there's that traditional mentality of 'man over nature'. I hope that my work shows that we are integral part of nature, but also that we are, ultimately, at its mercy.
'The Coral Greenhouse' (2019) by Jason deCaires Taylor at MOUA, The Great Barrier Reef, Queensland, Australia.
'There's something about seeing ourselves in a different environment and with a different sense of time that contextualises our lives, but also makes us aware of our underlying fragility.'
What role do you think your art plays in wider discussions around the environment?
We need a fundamental reset of our relationship to the natural world. The capitalist system of us looking at the natural world as a giant resource has to change, and it will change because we can not continue as we have been going. From a marine point of view, it's a harder challenge because it's an environment that's out of sight and out of mind for most people. I hope my work brings the underwater world into urban environments.
Read more: How Gaggenau is innovating the ancient art of steam cooking
Scientists put forward all of these figures and stats, but we're extremely emotional beings and we respond much better to an emotive argument than to a factual one. I think that's where art, and hopefully, my work, can play a fundamental role; it can transform those facts into an emotional message, and also bring these kinds of issues to a more mainstream audience. 
What led you to collaborate with Gaggenau?
Over the years, I've been approached by quite a few different brands and I very rarely do them, but Gaggenau has a good appreciation for the arts and supporting artists. Their products are about quality, good design and engineering, which I think complements my own practice.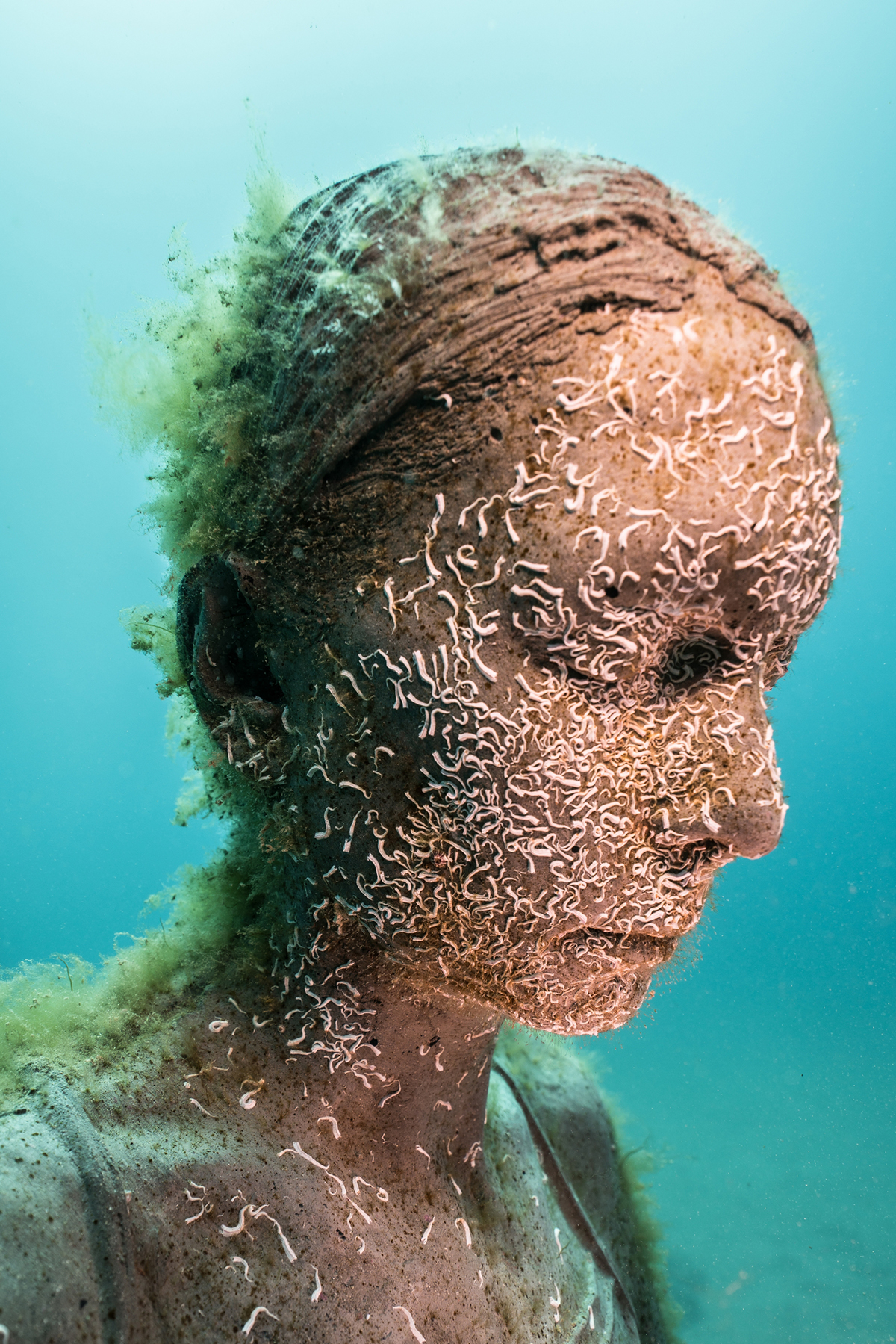 Calcareous tubeworms on part of a piece entitled 'Crossing the Rubicon' (2018) by Jason deCaires Taylor at Museo Atlantico, Lanzarote
'Inertia' (2014) by Jason deCaires Taylor at MUSA, Mexico
Have you managed to create in lockdown?
I have two young children so it hasn't been that easy to come up with new ideas or designs, but at the same time, it's an opportunity to reset. We have all been living too fast, and it's a time to re-evaluate what's important. In terms of actually creating, I get excited about an idea, and then, sometimes I feel that things are a bit futile, that I'm just finding ways to preoccupy myself.
Are you afraid of the future?
Yes. It's hard to comprehend the magnitude of what's happening. There are three monumental challenges that we are facing: the virus, the economy and climate change. I think it could go one of two ways. It could be an amazing opportunity to rebuild ourselves in a more sustainable way, but it's also going to really test humanity as to whether people will think only about their immediate reality and their families, or whether they can look past and see themselves as part of a global entity. It's tricky when fear is involved. Fear can be used for manipulation, and I worry that might happen.
Prudence Staite and her team creating an edible countryside landscape from popular breakfast foods to celebrate Farmhouse Breakfast Week. The artwork used 11 different types of breakfast cereal, including 169 wheat biscuits and 42 shredded wheat parcels, 500g of porridge oats, 21 slices of bread, 14 bread rolls, 14 crumpets, 2 jars of marmalade, 12 rashers of bacon and 42 apples.
Koala CFA made from nuts & seeds by Prudence Staite
Prudence Staite
Food artist
When did you decided to combine your passion for food with making art?
When I was doing my art degree, I got bored of what we were supposed doing – it was an old fashioned art school, very traditional – and instead I started creating artworks out of chocolate and sugar. The idea was that people could interact with the artwork; you could go into the gallery and actually eat it. Art to stimulate all the senses. Initially, my tutors were totally against it and said that art isn't something you're supposed to touch, it's something you're supposed to look at, but my degree show was made out of food. It was a room that you could actually go into; you could look through chocolate windows, and you could eat the chocolate skirting boards. The idea was to make people think how interiors link to real food. For example, how ceiling patterns sometimes look like frosting. That was back in 2000, and I set up my company the day after I graduated.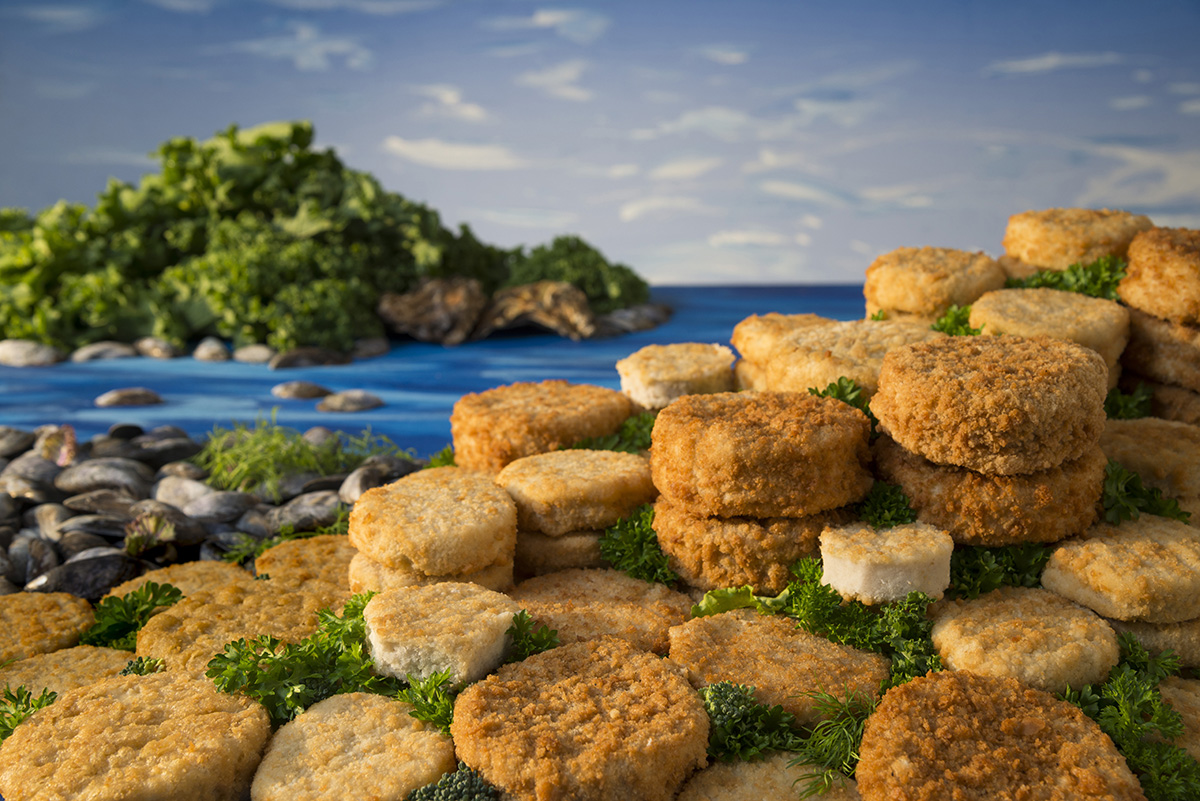 Giants Codway by Prudence Staite
Are all chefs are artists?
The way you set up to create a painting or a sculpture is quite similar to how you set up a plate of food. You've got a canvas or a plate and you have to collate ingredients or your artistic materials, and you plan and you prep. So yes, I think artists are chefs and chefs are artists.
What are some of the challenges of using food as an artistic material?
One of the main challenges is the lifespan of the food substances. Also, all of the work that we tend to do has incredibly short deadlines. We're always chasing our tail and juggling different jobs. We try to always come up with new things that haven't been done before, but often, we don't have time to see whether it will actually work so we just have to figure it out whilst we're making it. It's fun and I love it, but it can be challenging. 
Read more: In conversation with ballet dancer Sergei Polunin
We had one job where we had to use edible insects and chocolate. Since a lot of our artworks are eaten, we always have to make sure that it's  safe and meets food safety standards so for this project, there was a legal limit of how many insects you can have per ratio of chocolate and we had to get a veterinary certificate to make sure the insets been harvested correctly. For that kind of thing, there's a lot of paperwork and a huge amount of planning. 
Much of your artwork is assembled on site, why did you decide to work this way?
For me, it's that part of the theatre of my artwork. I like that people can see it all coming together. Often they see the vegetables, cheese, chocolate or whatever we're working with, but they can't see how it's going to turn out. I think that seeing that process adds something to the eventual eating experience. Having people watch me work can also be a little bit stressful because things do go wrong, but overcoming the problems is part of it. Also a lot of the projects we do are large scale so you can't transport them easily in one piece.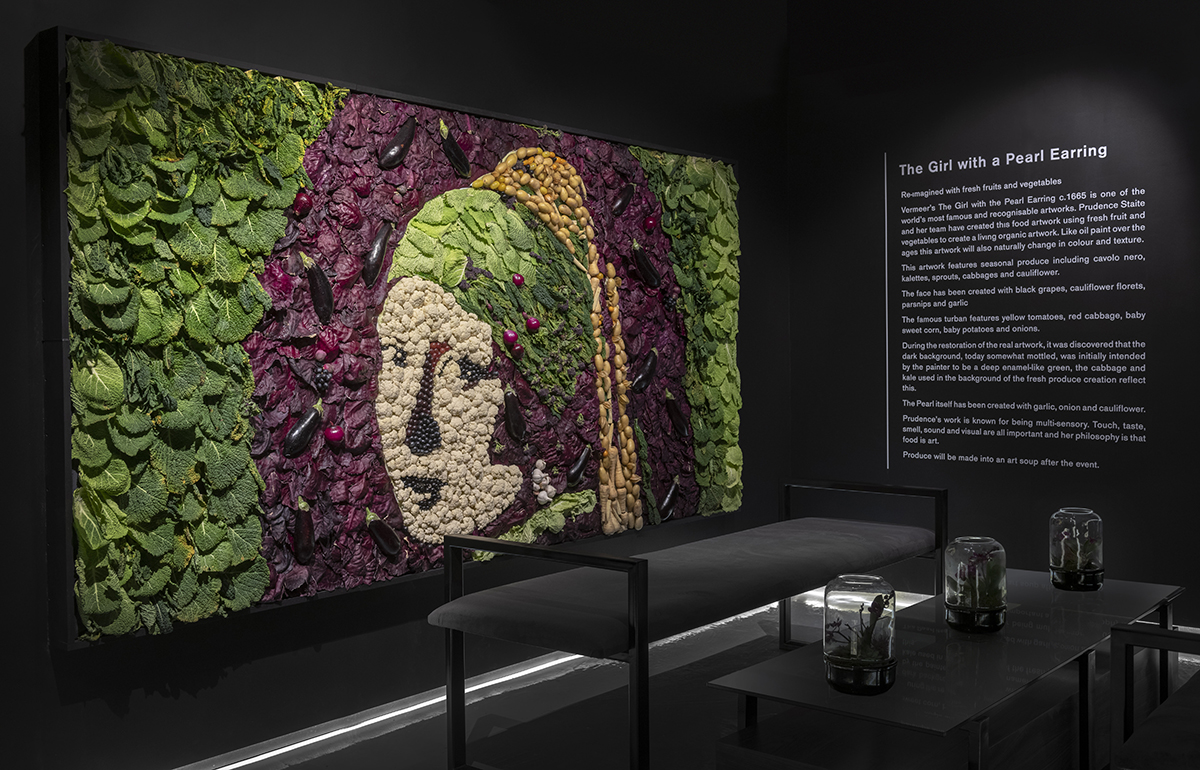 'The Girl with a Pearl Earring' created by Prudence Staite for Gaggenau's steam oven launch, 2020
'My whole philosophy is to give people a different viewpoint so that they can appreciate the art of food.'
What led you to partner with Gaggenau?
I was approached by the brand and asked whether I could create something that reflected the ingredients that could be used in their new steam ovens. Their ethos is very much that the products are masterpieces in themselves, they're works of art, and that really fitted with my philosophy that food is art. The ovens are not so much of a tool, but a vehicle to create masterpieces at home. I love that idea. Gaggenau's colour scheme had the feeling of Dutch Old Masters [paintings] with lots of rich greens and purples, which inspired the idea of re-creating The Girl with a Pearl Earring using vegetables.
How do you think your artworks contribute to the viewers' experience of food?
My whole philosophy is to give people a different viewpoint so that they can appreciate the art of food. Food should be an enjoyable experience and not something you just quickly shovel down your throat to fulfil a calorie intake. It's about getting people to stop and think about where we get food from and how it's grown.
The making of 'The Girl with a Pearl Earring'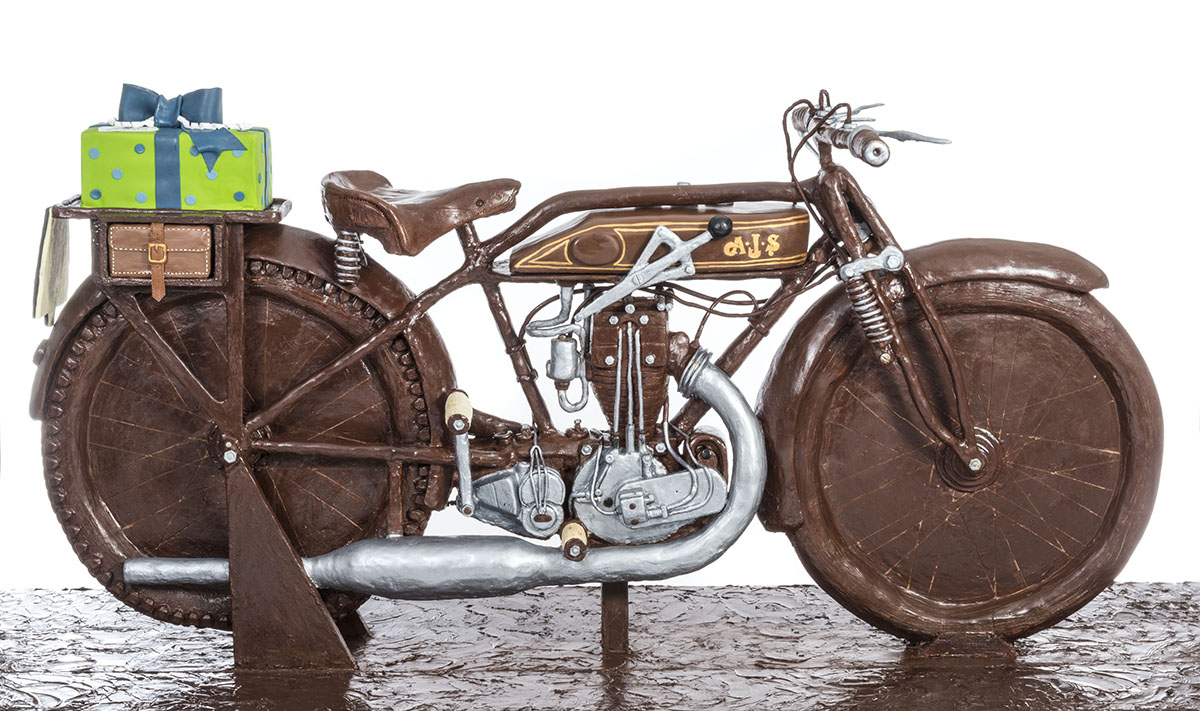 Chocolate Motorbike Exhaust by Prudence Staite
Have you been creating in lockdown?
We were working on three different projects and they were all put on hold because a lot of what we tend to do is in a public place or in a restaurant. So, I've been looking at new inspirations and I've been experimenting with making a series of chocolate vinyl records that are actually play music. I've also been trying to get a rainbow, the light spectrum, captured in chocolate, which I've managed to do by using diffraction grading so when you move the chocolate around under the light, you can actually see a rainbow.
What's next for you?
I never really know what's coming next – it has been like this for twenty years. One day I'd love to do a twelve course dinner which are  all individual works of art served within a chocolate art gallery. So you can go and eat all the walls, the doors, the floors, ceilings, the chairs that you're sitting on and chocolate records are playing music as entertainment whilst you eat. I would also like to work with more fresh produce and flowers, and to experiment with immersive produce installations.
Brill from the menu at Paris House
Paris House in the Summer (top) and Phil Fanning in the kitchen
Phil Fanning
Executive Chef & Owner of Paris House 
Your cooking focuses on seasonal British produce – where do you generally source your ingredients?
The general principle is that we find purveyors of the best quality produce and we rely on their connections with suppliers, farmers and producers. We are keen to use local people as long as their product is good. The quality of the product is paramount.
Read more: Fashion designer Erdem Moralıoğlu's guide to east London
What appeals to you about Japanese cooking techniques?
I've always loved Japanese culture. My wife and I are sushi addicts. I've been into martial arts all my life and I'm an amateur carpenter; Japanese carpentry is incredible. When you set up a business, you need some kind of USP or direction so it made perfect sense for me to follow that route. The principle behind Japanese food is the quality of technique, driving towards a kind of simple perfection. It's to do with extracting the best flavours from what you put in. What I especially love about Japanese culinary techniques is that you don't necessarily know it's Japanese from a flavour point of view so you can enhance British ingredients with Japanese techniques without turning it into Japanese food. 
Native Lobster at Paris House
How are you incorporating sustainability into your kitchen?
We have a kitchen garden so all of our vegetable trimmings go on the compost heap and the compost heap goes onto the garden and the produce from the garden comes back into the kitchen. We are closely advised by our fish suppliers as to what is the best fish to be using that season. We very recently flipped our entire kitchen to induction services and low energy refrigeration, which saves us a huge amount of money and also means that we're not wasting energy. We also recycle everything we possibly can. There's plenty more we could do, but we have already improved in many areas. 
Who or what do you think influenced your tastes in food and cooking?
It stared off with Gary Rhodes who was on TV. His passion and enthusiasm was infectious. Then my grandpa, bought me a Ken Hom wok when I was about ten – I've still got it and it's used on a regular basis – which opened my eyes to the Asian route. I also had a very powerful mentor: Michael MacDonald who now owns the Vanilla Pod in Marlow. He directed my skill set and greatly influenced my understanding in the kitchen. Then, there's my chef idol: Thomas Keller.
How do you think your cooking style has evolved over the years?
As the years go by you work out what it is that the guest wants, more than what it is you think they want. In other words, you become better at understanding your customer base's requirements. So I think I've become closer to what my customers like and I've definitely focused more on Asian techniques.
Read more: Sassan Behnam-Bakhtiar & the artistic revival of Saint-Jean-Cap-Ferrat
Craftsmanship is the cornerstone of what we do. Over the years, I've become better and better at my craft, but I don't think I've drastically changed what I'm doing. Every time you go out for a meal you get inspiration and gain a deeper understanding, but you always cook what you like. Fundamentally, if you wouldn't eat it, you shouldn't cook it. Yes, you have to listen to your customers and ensure you fit into the market, but you have to cook food that you love. 
'The fundamental principle is that you eat with your eyes. A good dish needs to taste, feel and look amazing; all three of those things have to be right.'
What's your process for developing new recipes?
Our current format is heavily driven by tasting menus. We have a six, eight, and ten course tasting menu, which are influenced by the Japanese concept of Kaiseki. It's an incredibly seasonal and locally driven food concept, and as with all things Japanese, there's always a reason for dishes to be in a specific order, combination or at a specific time of the year. There's a set of principles that you follow to build the Kaiseki menu.
By using some of the same principles in our menus at Paris House, we have a better and more consistent way to develop dishes. Now, we have dish "holes" so we know, for example, the dish at the beginning has to be slightly bitter, it has to be really fresh and probably seafood or vegetable-based. The next one down has to be hot, vegetable-based and with a fried element. These principles build a nice flow. Point one for us is to think about those principles, and then to look at what's seasonal and whether there are any new or exciting ingredients, and the third point is if we want to try and incorporate any new techniques into the menu. Then, there's experimenting and tasting. It takes about three to four months to bring a menu together.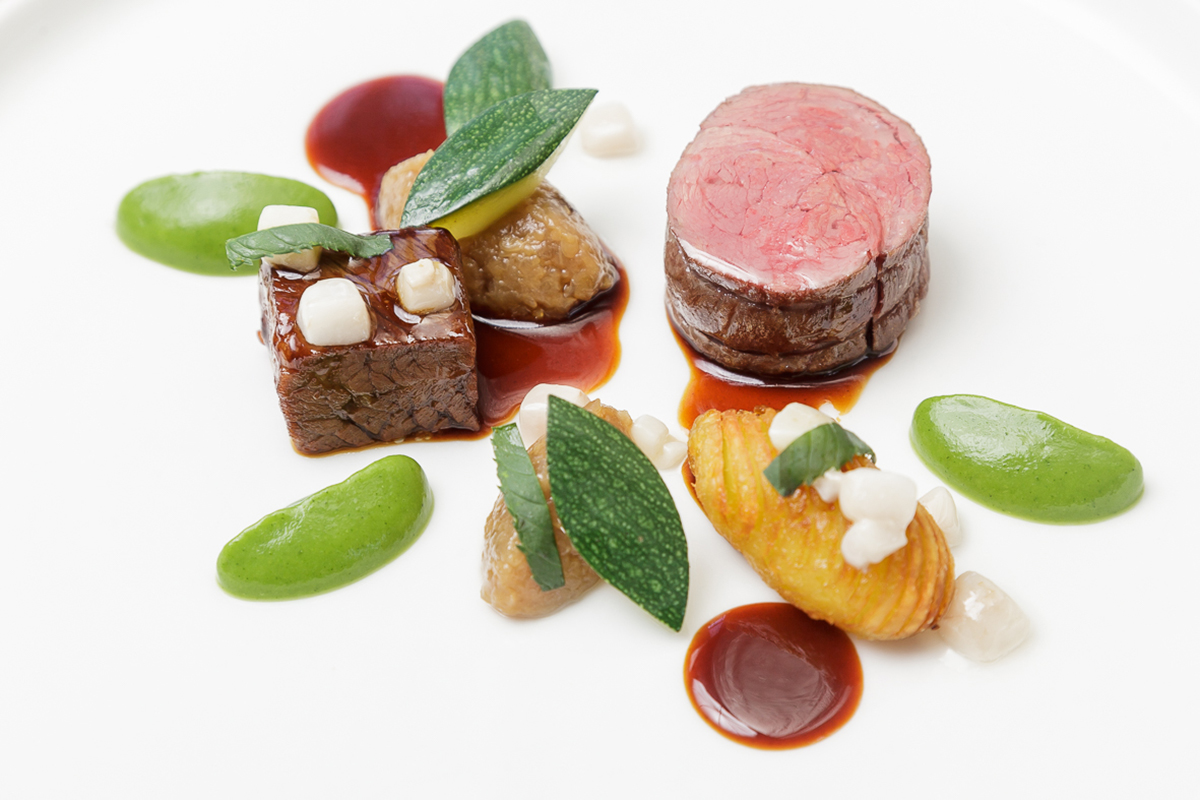 Crab (top) and Beef Rib dishes from a menu at Paris House
A plum dessert at Paris House
Do you consider yourself an artist, and is cooking an art form?
I think I'm a craftsman, but you could argue that all craftsmen have an element of artistry. The fundamental principle is that you eat with your eyes. A good dish needs to taste, feel and look amazing; all three of those things have to be right. The taste and texture of the piece is definitely down to craftsmanship, but the visual representation requires an artistic perspective.
What led you to collaborate with Gaggenau?
We've worked closely with Gaggenau for many years now. They're a massive producer of technology, but they're so artisan about what they do. For Gaggeanu, it's never about mass production, it's about quality, which fits with what we do at Paris House.
What have you been cooking in lockdown?
I've been cooking more than I have for years. At work, I've been doing the take-out menus, but at home, we've been baking baguettes, pizzas, sausage rolls. My favourite thing to eat in the sun is bouillabaisse so we made a big batch with mussels, which was incredible. Usually I don't have a chance to bake bread at home, and in the first few weeks when the restaurant was closed, I was baking pretty much every day. I love baking bread – it's such a therapeutic process. Spending more time with the kids has also been a huge silver lining.